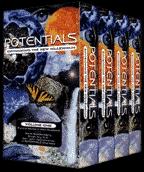 THERE'S NEVER BEEN A VIDEO SERIES LIKE THIS ONE!
"Watch this series and grow your brain!" -Timothy Leary
"A Who's Who of the 20th Century's far reaching thinkers and doers...a fascinating, thoughtful, and historically important series." -Body Mind Spirit magazine
"This is the kind of TV I'd like to watch." -Gene Roddenberry

POTENTIALS is a thought-provoking, sixteen part video series hosted by leading futurist Barbara Marx Hubbard, featuring some of the greatest thinkers and futurists of our time. POTENTIALS features illuminating conversations which examine human potential in a myriad of fields: Creativity, the Soul, Peace Making, Art, Mind-Body-Spirit, Alternative Futures, Animal Consciousness, Evolution, Space, Technology, Designing for Humanity, Intelligence, Intuition, Star Trek, Self Esteem & Politics...
POTENTIALS was produced by Marta Houske, an award winning director, producer, and writer.

POTENTIALS, the series, consists of four volumes, each with four episodes. Each volume is approximately two hours in length